(Continues from part 2 of this series on Norway.)
Bergen is the most popular place in Norway and tourism related services are around from the moment you exit the airport. A constant bus service takes you to downtown and is so busy that you often have to wait a few buses. We got dropped of near Festplassen and walked to Citybox Bergen, where we'd stay for the next 2 days. This is another one of those self-serve hostels that seem to be popular in Scandinavia. The hotel was OK, but I would not recommend it if you intend to do most of your cooking. There was no kitchen, just a microwave and a fridge and plastic utensils.
Since it was only early afternoon, we started the slow re-integration into society by visiting the one square kilometer where all of Bergen's tourist activity seems to be; the area around Festplassen and Bryggen.
Neither Bryggen, nor the fish market are as good as the hype. We were "done" with Bergen pretty quickly. We went to the tourist information center at the south end of the fish market for information about hikes we could do and to get tickets for the journey back to Oslo. A quick walk around Bergenhus was enough sight-seeing for me for the day. I was ready to take a brief diversion into food. First, a stop at the famous Trekroneren for a hotdog.
I have a soft spot for lingonberry jam, and will always eat it when available. The sausage was nothing special, my other experiences with reindeer have been much better. We ambled down the thoroughfare of Christiesgate towards the shopping district on Nygårdsgaten to get a better feel for the city, then ducked into a KIWI to get the next several days of food. KIWI cashiers actually have a neon green uniform, which is hilarious.
My "things that make Norway amazing" list goes like this:
Amazing juxtaposition of water and mountains.
Pristine nature preserved alongside a very 21st century civilization.
Brunost.
This unassuming "cheese" is apparently a norwegian speciality, is hard to find anywhere else, and seems to be an acquired taste. Through translated to brown cheese, it is actually caramelized whey, and is available as slices or blocks. I should've bought a block. A Norwegian even came up with a cheese slicer so they could enjoy this food forever. The best way to describe it is a really creamy, room temperature version of malai kulfi. It tastes great! I ate it as is, put it on bread and jam, ate it as a snack, ate it as part of a meal, and brought several boxes home to spread the discovery to family and friends. Really, this thing was responsible for 25% of my general happiness in Norway. Fortunately, I may get my hands on some more soon from a friend of a friend.
Other great grocery store food includes garlic mayo, Eldorado pesto and a kind of bean salad.
On the last day, in Oslo, I also had lunch at Restaurant Schrøder. It was very "Scandinavia trying to survive the winter", that is, it was great.
Ah… back to Bergen. It was some NOK60 to get us a one-way bus ride to Ulriken. The cable car takes you on a scenic ride to the top of Ulriken, one of seven mountains surrounding Bergen. Several trails start from here and wander all over the general Bergen area.
This was very similar to the Marin Headlands in San Francisco, but I was envious of the accessibility.
We first walked up Ulriken's summit, then started on the Vidden trail. It is supposed to be 13km, but it seemed to take much longer. The trail is fairly flat and very well marked. There are plenty of huts along the way, and wild camping is permitted too. In my opinion most of the trail isn't very special, it is only the sections near the lakes that really bring out the "this is Norway" aspects of it.
You eventually reach Fløyen, a smaller hill that is closer to town, and consequently has a lot more tourists.
The Floibanen down to town is a fun ride on a funicular.
In Norway, Donald Trump memes make good advertisements.
With the trip coming to a close, it was time to become a normal tourist, no more hiking unreasonable distances! On the third day in Bergen we took the Norway in a Nutshell (the Sognefjord variation) package to get us to Oslo. First up, a boat ride from Bergen down the Sognefjord to the town of Flåm.
The weather quickly proceeded to become dreary, but the fjord was still delightful. At Vik, we departed, then had to go back because one kid forgot to disembark.
The waterfalls are everywhere along the fjords, but the one near the mouth of Naerøyfjord is particular magnificent and the boat takes you very close to it.
In another 20 minutes you are dropped off at Flåm, a town that has some tacky souvenir shops, restaurants, lodging and the terminus of the famous Flåm railway. They have Wi-Fi here too! We spent 2 hours waiting for our train.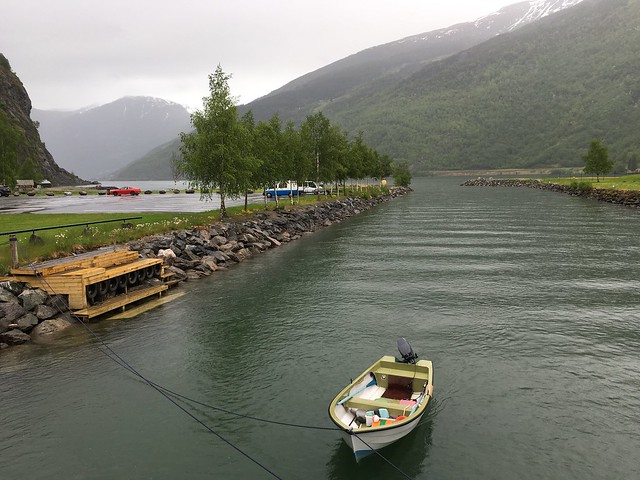 It was drizzling and some folks had to do the best they could to stay dry.
The ride down the Flåm valley is spectacular. Since the train is moving, the pictures don't do it justice, it is significantly prettier than it seems. I would love to do a bikepacking trip here.
The train does stop at Kjosfossen, and they have a cheesy "show" where a lady dances in a red dress next to the waterfall. That was a bummer, as the waterfall is a spectacle in itself.
The ride is only an hour, but I wish they would slow it down to enjoy the sights more. We were dropped off at Myrdal and the end of the scenic aspects of the ride. From here we were on the main Bergen-Oslo train tracks. The train is really nice, brand new interiors and comfortable seats. For the first few hours it continues to wind its way through the mountains. This is definitely on my list of places to come back to, because you can get off at a couple of different stations to make your way to the Hardangervidda National Park.
By this point I had had sightseeing fatigue and was glued to my phone instead. We were eventually dropped of at Oslo Central at 10:30pm on a Saturday.
Shreya left on Sunday morning and I walked around Oslo for a while. The botanical gardens were really nice.
Tulips were in full bloom in other parts of the city too.
Netflix Norway has The Dark Knight and The Avengers available for streaming, so I spent the afternoon watching all the action scenes, with brunost for company. It was nice to have a day of relaxing before heading back home. Constantly moving from one place to another is draining. On Monday morning I flew back to San Francisco, and the dependable sunshine of Northern California.
This trip was a great introduction to Norway. I will be back. In particular, I want to spend more time in the Lofoten, go skiing in the Lygnen Alps, visit the Hardangervidda, and spend more time in the western parts of Norway visiting more fjords. It is definitely a country that needs time, partly because half of the days the weather won't co-operate. But when the sun shines, it really does shine on some of the best places on the planet.